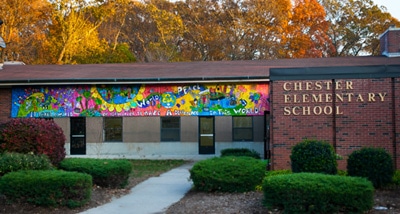 Wendy Fiore is a language arts consultant at a Connecticut elementary school and a veteran Screen-Free Week organizer. We asked her about her experience planning over the years.
How long has Chester Elementary been doing SFW? How has the school been able to keep it going for so many years?
I am the Language Arts Consultant for CES, a K-6 school. I believe I started with TV Turnoff Week in 2007. At first I informed the students & the parents about it, suggesting they participate, sharing some statistics with them, but by the next year I had developed a core group of staff members to help out with the week. I try to do one new activity or bring in one new element each year combined with what I've done every year.
What do you have planned this year?
I can only do one evening event during the week. We call it our Family Night, and each year we offer something different. We've made murals, life-sized action posters, butterfly mobiles, had poetry slams, done yoga, opened our Project Adventure course, sing-alongs. This year we've invited the local Boy Scouts to do some geocache, a mother to work on our garden to continue our "Farm to Table" initiative, and the art teacher will have Faery House building.
How do you get children excited to go screen-free?
Children (and adults) are far too addicted to screens today to ever get "excited" about turning them off for 7 days. Their moans come through loud & clear. I go around to every grade level to talk about why this is important, how it's a good healthy thing to do for a week, and then I share a book with them. This year instead of the students making posters about what they could do instead of screens, the teachers have made one & hung them on their doors. I offer a free ticket to the Rock Cats baseball game to anyone who does even one day. Those students who participate in all 7 days get their name put in a hat to have the opportunity to throw out the opening pitch. Everyone else who does the 7 days can go down on the field while the pitch is being thrown. The announcer at the game tells the crowd what the students did.
How do you get parents on board? How about other teachers and the administration?
Most parents participate, or at least make sure their children do. A couple flat out refuse. All the staff supports the program. Our broadcast (morning news) is done via the PA system instead of the TV, no instructional DVD or clips are played, the reading & math intervention that's done on the computer in the afternoons is done w/ paras who run games & such instead. Many staff assist w/ Family Night. If not, I wouldn't be able to have it. I put out weekly "blurbs" that include statistics, pediatrician recommendations, screen-free activities, etc.
What do you think students gain from participating in Screen-Free Week?
I can only speak for my own family. We gain an improvement in our communication skills, my daughters are less "snarky" and "snappy" with us and each other, our dog gets more attention, toys get rediscovered, and the movies —after the week is over —become "special" once again. Their creativity and self-play returns, and it is a beautiful thing to see.
As Roald Dahl says,
"IT ROTS THE SENSE IN THE HEAD!
IT KILLS IMAGINATION DEAD!
IT CLOGS AND CLUTTERS UP THE MIND!
IT MAKES A CHILD SO DULL AND BLIND
HE CAN NO LONGER UNDERSTAND
A FANTASY, A FAIRYLAND!
HIS BRAIN BECOMES AS SOFT AS CHEESE!
HIS POWERS OF THINKING RUST AND FREEZE!
HE CANNOT THINK — HE ONLY SEES!"
I want all the children (and adults) in my life to do more than "see" in a dull, blind manner.
What are some barriers you face in organizing Screen-Free Week in your school?
I am the only person in my position for a K-6 school & I wear many, many hats so when this time of year comes around I find it difficult to get everything underway by myself. While I get much help from staff to run our Family Night, there is still much else to do to get the week up & running: talking to each class & getting as many students excited about SFW, posting articles, updating websites, press releases, sign-up sheets, baseball game to arranges, etc.
What tips would you have for other teachers or administrators planning a school-based SFW?
Recruit as much help as possible. The SFW planning kit is very helpful so take advantage of that.